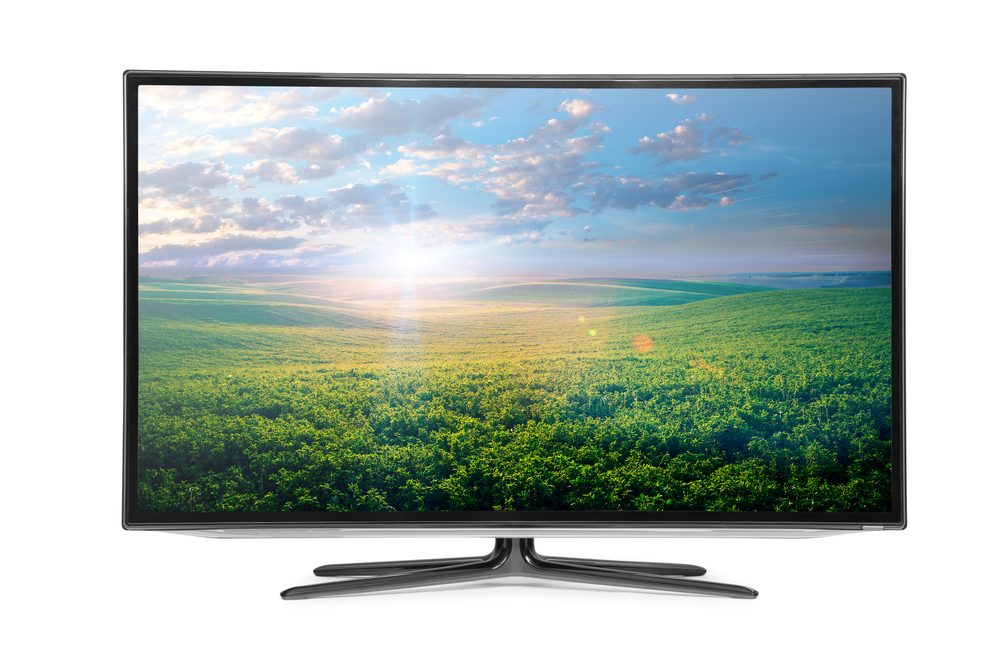 If you're thinking of upgrading your TV and you want to replace it with a 50 inch one, this list will help you make your decision a lot faster, and you can decide for yourself what's important for your household. The 50 inch TVs are great because they still give you the feeling that it's a decent size TV with all the modern technology and features, which is great for the people that are used to watching their favorite channels on a big screen.
While people are trying to buy bigger and bigger TVs, the significant producers have started to produce bigger ones just to cater to the needs of the market. Fortunately, the prices have still remained affordable for the masses, and buying a 50 inch TV with top-notch technology is very realistic.
Check out the top 3 cheap 50 inch TVs!
Samsung 50" Flat 4K 
4 new from $397.99

5 used from $346.47

Free shipping
Last update was on: September 19, 2019 2:51 am
4K UHD Processor: A powerful processor optimizes your TV's performance with 4K picture quality
HDR: See shades of color that reveal more detail than HDTV can deliver
Smart TV with Universal Guide: Our simple on-screen guide is an easy way to find streaming content and live TV shows
PurColor: Millions of shades of color reveal a vibrant, lifelike picture that HDTV can't create
With its astonishingly powerful 4K UHD processor, the performance of this TV is increased by a large margin, and the 4K picture quality can be truly noticed. The PurColor gives different shades of a color a new meaning since for one color, it can produce millions of shades. The spectrum of colors that PurColor offers is second to none.
The Universal Guide on Smart TV gives you access to an astonishing number of streaming channels on the internet. Because of its brilliant design, it looks great while standing, but also it will look great if you mount it on a wall.  The 4K resolution on this TV is definitely on a different level.
---
back to menu ↑
Sceptre 50″ 1080p LED TV
6 new from $204.99

1 used from $395.99

Last update was on: September 19, 2019 2:51 am
Memc 120 with a MEMC 120 (Motion Estimation and Motion Compensation), all action-packed sequences will flow smoothly from frame to frame for the ultimate experience
Dts SRS TruSurround HD DTS SRS TruSurround HD delivers an enveloping combination of smooth Treble and maximum bass response
Dimensions with stand (inches) 44. 25" x 27. 57" x 8. 52" without stand (inch) 44. 25" x 25. 53" x 3. 64" Packaging Dimension (inches) 49. 72" X 6. 33" X 30. 47"
While Sceptre has only come out on top for producing TVs recently, this Sceptre 50" 4K TV is proof of their excellence. Starting from the sleek design of the frame to the seemingly unending color specter, Sceptre has made huge strides in gaining new clients. With a 60Hz refresh rate, you can experience fast-moving scenes as if you were there.
Weighing only 33 pounds, this TV is quite lightweight and easy to carry. The resolution is fantastic, and with the Fire TV or Roku stick, you can enjoy plenty of content. Sceptre is worth every penny, so don't let the fact that it's not a major brand name dissuade you from purchasing it.
---
back to menu ↑
Insignia UHD 50"
1 new from $299.99

Last update was on: September 19, 2019 2:51 am
Insignia 4K UHD Smart TV - Fire TV Edition delivers true-to-life 4K Ultra HD picture quality with over 8 million pixels for stunning clarity, deep contrast, and vivid colors.
With the Fire TV experience built-in, enjoy tens of thousands of channels, apps, and Alexa skills, including Netflix, YouTube, Prime Video, Hulu, HBO, SHOWTIME, STARZ, and more
Fire TV Edition seamlessly integrates live over-the-air TV and streaming channels on a unified home screen (HD antenna required).
Insignia has been known to produce high-quality TVs for quite some time now, and this model is no exception to that rule. Due to its 8 million pixels, it provides you with a brilliant picture with stunning clarity and deep colors. It has three HDMI outputs and many other input/output options. It's also HDR compatible, which means you can watch HDR TV shows and movies.
Fire TV edition lets you watch thousands of channels, while you can also ask Alexa to help you with choosing what to watch on Prime Video, Hulu, HBO, Netflix, and more. If you subscribe to Sling TV or Direct TV, you will get even more content to watch. Taking into consideration the price that you are paying for it, this TV is quite well put, and it will last for many years.
---
Overview of The Best 50′ TVs Review

$204.99
$499.99
in stock
6 new from $204.99
1 used from $395.99
as of September 10, 2019 4:31 pm

Amazon.com
$299.99
$350.00
in stock
1 new from $299.99
as of September 10, 2019 4:31 pm

Amazon.com
$397.99
$499.99
in stock
4 new from $397.99
5 used from $346.47
as of September 10, 2019 4:31 pm

Amazon.com
Free shipping