Although sounding pretty space age and high tec, a floating TV stand is a fantastically stylish item of TV furniture that's designed to not only look great, but function well, too.
It's almost a foregone conclusion that we need somewhere to stash the remote, collection of blu rays and so on, and practicality dictates that they're stored somewhere near the TV.
However, if you don't want a contemporary TV stand with a mount, what do you do? You look at floating stands instead.
These innovatively designed stands attach unobtrusively to the wall, beneath the mounted TV screen, so it appears as though both the unit and the screen are floating independently. Without encroaching on often valuable floor space, a floating stand can stylishly hide all your discs and more if you choose a design with closed cupboards, or can display them as a neat collection on any available open shelves.
Floating TV stands are safer for kids because unlike traditional stands, they cannot be pulled over, which could be a major reason for choosing a floating TV stand.
We've tested every popular model to determine numerous factors, including:
The ease of attaching to the wall, and whether every component necessary is included.
The quality of the workmanship.
The functionality, and storage facilities.
The aesthetic appeal and designer looks.
The value for money.
Only upon completing our rigorous testing and deciding the winners can we include any TV stand in our list of recommended models. Every one of the floating TV that stands featured here meets, and in many cases, exceeds our tough expectations.
So, here's our best floating TV stands of 2022:
---
1) Black Altus Floating TV Stand
8 new from $164.88
Free shipping
as of December 3, 2022 2:52 pm
Offering a clean, contemporary appearance, this floating TV stand from Prepac provides incredibly versatile storage. The neat cable management arrangement keeps the look minimalist and slick, and wall attachment is so simple with the innovative hanging rail system.
---
2) South Shore Munich 68″ Wall Mounted Media Console
6 new from $222.90
1 used from $151.06
Free shipping
as of December 3, 2022 2:52 pm
Bringing a gorgeously rustic feel to any living room, this wood and metal unit is well made and reliable. Perfect for displaying ornaments or family photos, and with a cabinet to hide untidy devices and controllers away, the floating media console has been designed with holes for hiding messy cables. Quick and easy to assemble, this makes the ideal addition to any entertainment centre.
---
3) 20 Color LEDs Floating Unit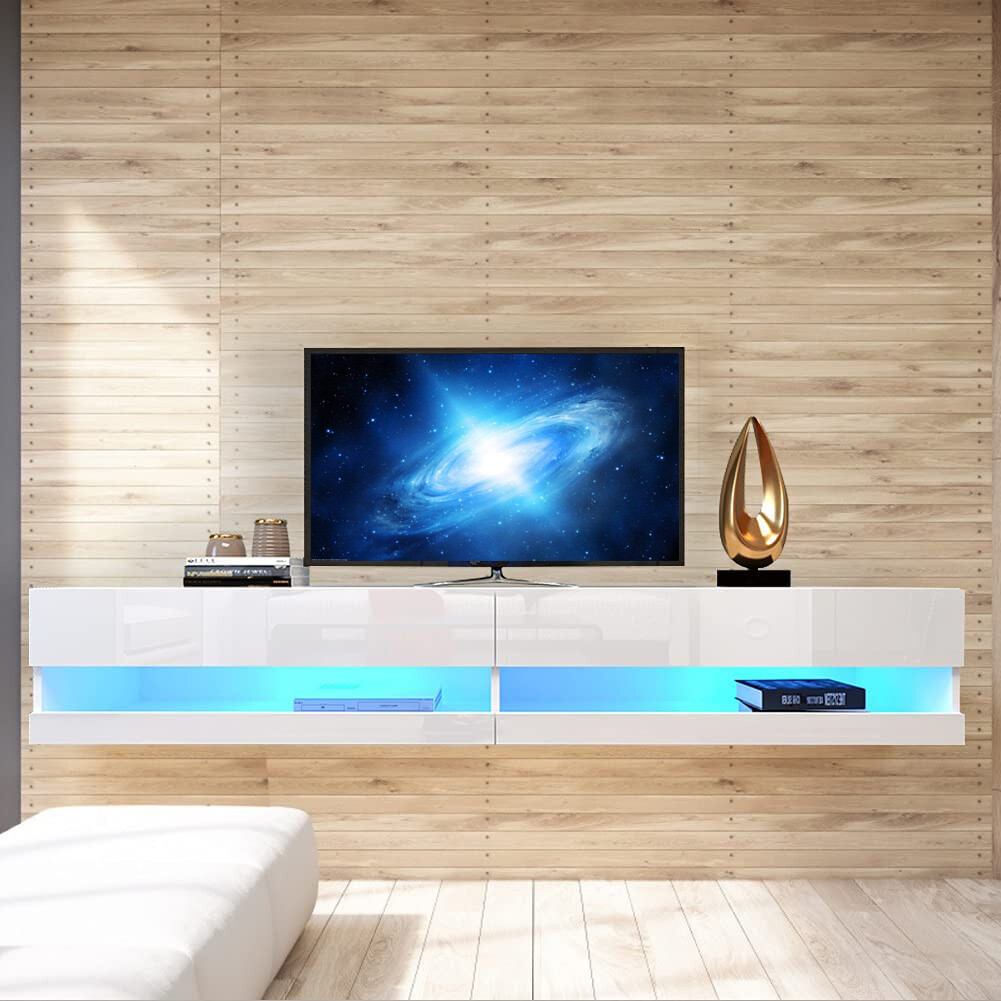 as of December 3, 2022 5:53 am
This black LED TV stand is a great ideal for lounge room, living room, bedroom and more. 20 Color LEDs. Detail of the Wall Mounted TV Stand. High-quality hardware will make sure this TV stand will be sturdy on the wall.
This supremely cool entertainment storage unit takes up minimal space while offering maximum storage. Containing both open shelving and storage space, it provides the versatility to personalize your floating console. With clever cable-hiding holes, 20 LED colors to choose from, and an ingenious hanging rail mounting method, this is a great addition to any home.
---
4) Martin Furniture Floating TV Console
2 new from $178.67
2 used from $119.03
Free shipping
as of December 3, 2022 2:52 pm
Martin Furniture have designed a beautifully simple console. Clean lined, sleek and super chic, this minimalist floating shelf combines contemporary looks with a choice of classic wood finishes. With a five year warranty, what's not to love?
---
5) Electric Fireplace TV Stand
Large enough to house numerous consoles and controllers, this hard wearing but elegant TV console is manufactured from environmentally-friendly and formaldehyde-free materials. This results in a unit that means even the youngest family members are never at risk, and the rounded corners remove even more accidents-waiting-to-happen. With two well designed drawers, the option to tidy cables away and all the pieces necessary for wall mounting, this is easy to recommend.
---
TV Stand FAQs
How do I choose a TV stand?
Your TV stand should reflect the size of your screen, and appeal to your personal taste. There are numerous styles, color options and prices to suit everyone.
What can I use instead of a TV stand?
A floating TV stand is a great contemporary style choice. It is wall-mounted, and can have the TV placed upon it, or mounted slightly above for a cool twist.
What is the best size TV stand for a 55 inch TV?
A 50 inch TV stand is the recommended size for a 55 inch TV.
---
If you enjoyed this page, and are looking for other TV accessories, then consider giving these pages a read too!