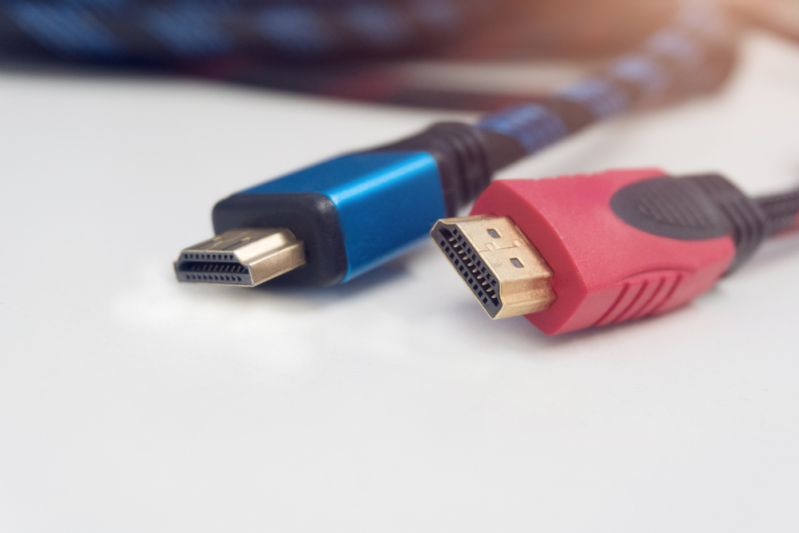 The importance of HDMI cables has gone through the roof these past few years since we've been using them for almost everything, including laptops, TVs, etc. 
The HDMI cable is made of 4 shielded twisted pairs and seven separate conductors. Nowadays it's fairly easy to find cheap HDMI cables that will last you for years.
This list features the three best HDMI cables you can find!
Cable Matters 3-Pack High Speed HDMI to HDMI Cable
2 new from $13.49

Free shipping
Last update was on: September 19, 2019 2:51 am
3 COLOR COMBO PACK of High Speed HDMI cables connects a computer, Blu-ray player, AV receiver, Fire TV or Roku premier plus streaming media player, cable box, Play Station 4, Xbox One X, Nintendo Wii, or other HDMI compatible device to a 4K UHD TV, LED lit monitor, or 4K projector
FEATURE-FILLED HDMI cord pairs with an HDR gaming monitor, an HDR 4K TV or an HDR projector in the home or conference room; 4K HDMI cable supports Audio Return Channel (ARC), HDMI Ethernet Channel (HEC), 48 Bit Deep Color, 32 channel audio, HDCP, and 3D video
The Cable Matters High-Speed Cable is a male-to-male cable that can connect any 4k UHD TV, LED monitor or 4K projector with many devices that are HDMI compatible. It has the ability to connect with computers, Blu-ray Players, AV receivers, Fire TV or Roku, PS4, Xbox 360, Xbox One X, and many other devices which are HDMI-enabled to displays, TVs, and more. It's built to last because it features a sturdy metal jacket and triple-shielding.
This cable meets the highest HDMI standards (2160p, 48 bit/px color depth, 4K video at 60 Hz,) and can support a bandwidth that can reach 18Gbps. With this cable, you can share your internet connection with many other devices without having a separate Ethernet cable. With a length of 6 feet and a sturdy build, you won't have to worry about the quality or durability of the cable.
back to menu ↑
Twisted Veins 6 Feet HDMI Cable
1 new from $10.96

1 used from $54.99

Free shipping
Last update was on: September 19, 2019 2:51 am
Twisted Veins cables support signals up to 18Gbps bandwidth, 4K resolution, 60hz refresh rate and HDR10. Twisted Veins cables have been tested and work with Roku Ultra, PS4 Pro, Xbox One X, Playstation 4 (PS4), Playstation 3 (PS3), Xbox One S, Xbox One, Xbox 360, Nintendo Swtich, Nintendo WII, Blu-Ray Players, Ultra HD Blue-Ray Players, Apple TV (First Generation), High End Video Graphic Cards etc. For an unknown reason, Twisted Veins cables will only support up to 4K 30hz HDR on Apple TV 4K.
The HDMI Cables produced by Twisted Veins is an excellent deal for everyone. These cables can support 4K resolution, HDR10, and sport a 60Hz refresh rate. They have been tested on devices like PS4, PS4 Pro, Roku Ultra, Xbox One, Xbox One S, Xbox 360, Nintendo Wii, Nintendo Switch, Ultra HD Blue-ray players, Blue-ray players, and a plethora of other devices. They are quite soft, meaning that they can go around objects without a problem. 
They can support formats like 480p, 720p, 1080i, 1080p, 1440p, deep color, 3D, TrueHD, UltraHD, HD, FHD, QHD, and UHD. To make them more durable, they come with a tough-flex connector neck, as well as contacts which are gold plated. 
back to menu ↑
ATEVON 4K HDMI Cable 
1 new from $11.99

2 used from $11.75

Free shipping
Last update was on: September 19, 2019 2:51 am
【High-speed Data Capacity】Atevon High-Speed HDMI Cable supports HDMI 2.0b including 18 Gbps, Mirror & Extend mode, UltraHD 4K 2160p (up to 60 Hz 4:4:4), HD 2K 1080p (up to 240 Hz), QHD 1440p (up to 144 Hz), HDCP 2.2, 48-Bit Deep Color, Audio Return(ARC), Dolby TrueHD 7.1 audio and Hot plugging.
【Universal Compatibility】Designed for all devices with HDMI 2.0 standard and backwards compatible with HDMI 1.4, 1.3 & 1.2. Easily connects your streaming devices, Apple TV 4K, NVIDIA SHIELD TV, CD/DVD/Blu-ray players, Fire TV, Roku Ultra, PS3/4, Xbox One/360, Nintendo Switch, computers, or other HDMI-enabled devices to your 4K/HD TV, monitors, displays or projectors.
The ATEVON HDMI Cable is a male-to-male cable that can support HDMI 2.0b, mirror and extended mode, HD 2K, Ultra HD 4K, HDCP 2.2, 48-Bit Deep Color, ARC, QHD 1440p, and hot-plugging. The connectors are gold-plated and have a three-layers shielding which minimizes the interference and signal loss at the same time. This cable is designed for devices with HDMI that have a 2.0 standard. However, they are also compatible with HDMI 1.2, 1.3, and 1.4. 
The connectors are extremely durable since they're built with durable zinc alloy, and they're so sturdy that they can withstand a 10,000+ times bend test and still retain the performance and flexibility. The ATEVON HDMI Cable is of the highest quality and if you're looking for a high-quality cable, you shouldn't think twice.
---
Overview of The Best HDMI Cables Reviewed

$10.96
in stock
1 new from $10.96
1 used from $54.99
as of September 19, 2019 2:51 am
$11.99
in stock
1 new from $11.99
2 used from $11.75
as of September 19, 2019 2:51 am
$13.49
in stock
2 new from $13.49
as of September 19, 2019 2:51 am